Things You'll Need
Tape

Pen

Carpenter's square

Screwdriver

Screws

Drill

Tape measure

Hand screw clamps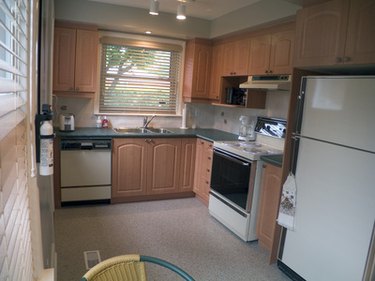 When you install your kitchen cabinets in your mobile home, they must tightly anchor to your wall studs. Solid wall anchors provide the adequate support needed for your cabinet's load, such as holding groceries, plates and cups. Leveling your cabinets prevents your doors from opening when closed. If your cabinets do not sit flush on your wall, the door will not stay closed. Marking each cabinet before installing them in your mobile home will prevent you from installing your cabinets in the wrong area.
Step 1
Remove all doors from your cabinets before installing them, and mark each door with tape and a pen. This prevents doors from being damaged during installation and makes the cabinets lighter when installing them.
Step 2
Position your corner cabinet on your kitchen ledger and drill three pilot holes through the top and bottom of the back of your cabinet. Drill screws through the pilot holes and snug your screws to the back to the cabinet by drilling them tightly into the ledger.
Step 3
Screw the adjoining cabinet to the cabinet you installed as per Step 1 on the ledger by screwing it into the ledger. Check your cabinet for levelness by laying your carpenter's level inside the door, and check to make sure your doors and knobs do not interfere with one another. Repeat this for all cabinets you install. Snug your screws once you have installed the cabinet by screwing them tightly into the cabinet and the ledger.
Step 4
Clamp your corner cabinet and adjoining cabinet in your kitchen together at the top and bottom with your hand clamps.
Step 5
Place each additional cabinet in its location as per Step 1 and clamp the faces of your cabinets together. Drill pilot holes through the side of the face of the cabinets. Drill three pilot holes and screw in screws. This brings the face of your kitchen cabinets together. This will firmly close the gap of two adjoining cabinets.
Step 6
Screw the cabinet doors to their designated location with your screwdriver and screws.