Things You'll Need
Cookie sheet

4 cups coffee grounds

Two metal loaf pans

1 cup molasses

Three 10-inch unscented uncolored tapered candles

Knife

Spoon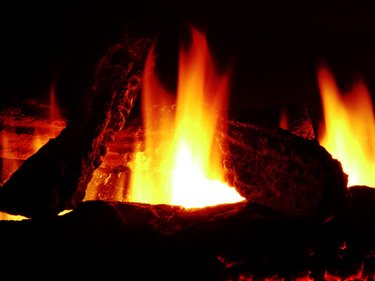 Fireplace logs made of coffee grounds burn hotter longer and emit less carbon dioxide than wood logs, according to companies that manufacture them. Moreover, compared with other manufactured logs, coffee-ground logs emit fewer unpleasant odors and do not produce as much soot build-up in the chimney. Save money and make your own coffee-ground fireplace logs by collecting your own kitchen grounds or procuring them from a local coffee shop. All the other ingredients are probably already laying around your house.
Step 1
Spread the coffee grounds out onto the cookie sheet. Place in the oven on the warm setting for 10 minutes. Stir the grounds and place in the oven a second time for 10 minutes. When finished, the grounds should be dry to the touch.
Step 2
Cut the candles in half with a knife. Place two and a half candles in the loaf pan and pour one cup of molasses over them.
Step 3
Melt the candles with the molasses in the oven at 260 degrees for 25 to 30 minutes or until the wax fully melts.
Step 4
Stir in the dried grounds until all grounds are coated with the wax mixture.
Step 5
Use the bottom of the other loaf pan to compress the coffee ground mixture.
Step 6
Allow the log to cool overnight. Turn the pan upside-down and loosen the log from the pan. It is now ready to burn in your fireplace.