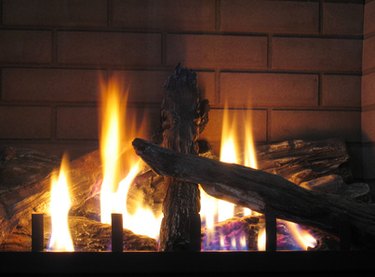 Gas log fireplaces provide warmth and atmosphere for a home, without the added trouble of logs. They require little maintenance, but do need annual care just to make sure everything is working properly. During installation you can choose a vented gas log, which requires a chimney and looks like a standard fire, or an unvented gas log, which requires no chimney and throws more heat. Knowledge of how to care for these fireplaces will help keep you and your family safe.
Step 1
Clean your fireplace before the burning season each year. Turn off the gas and pilot light and allow the logs to cool down before touching anything.
Step 2
Remove the gas logs and burners. Brush them clean with a soft nylon brush. Vacuum any debris from the fire place and scrub it clean with a brush and water. Make sure you clean the pilot nozzle as well.
Step 3
Inspect your vents or chimney to make sure everything is clean and clear. Blocked vents could send carbon monoxide into your home and a dirty chimney can cause chimney fires. Clear away any debris you see.
Step 4
Replace all the parts of your fireplace. Turn on the gas and the pilot light and light a fire. If you smell gas, call your local gas or fireplace company because there is a problem.
Step 5
Look at the flame and make sure it is the same as last year's flame. If it differs in color, adjust the air vent on the control panel. If it does not change back to its original color, call your fireplace company.
Tip
You may want to call a chimney cleaning company to clean your chimney each year for a vented fireplace.