Things You'll Need
Grease remover

Fine sandpaper

Masking tape

Acrylic paint

Paintbrushes

Transparent paint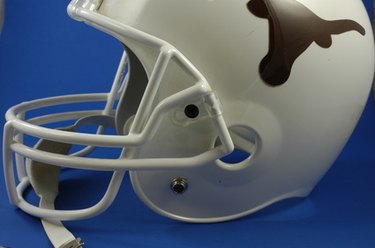 Professional custom painting for your helmet can cost up to $450. You can save money by painting the helmet on your own with acrylic paints. However, painting a helmet can be difficult because the helmet's round shape can cause the paint to drip and can complicate the use of stencils. You can purchase the items you will need at a home improvement or hardware store.
Step 1
Clean the surface of the helmet completely with a grease remover--it's available at a hardware store or automotive store. Allow the helmet to dry completely.
Step 2
Sand the surface of the helmet to remove the clear coating (you can skip this step if the helmet is unfinished). If you plan to use light paint over dark paint, you will also need to sand the paint off along with the clear coating.
Step 3
Use masking tape to cover the fabric base and the inside of the helmet--any area you don't want painted. This will prevent the paint from seeping onto the fabric and staining it.
Step 4
Paint the helmet with acrylic enamels. Use spray paint if you want a solid color or base. Make very thin coats to prevent drips from drying on the helmet. If needed, apply several coats--allow each to dry completely before resuming.
Step 5
Use varying sizes of paint brushes to paint details on the helmet. You can also use sticker stencils to create shapes on the helmet. Allow the paint to dry completely.
Step 6
Spray the entire surface of the helmet with gloss or matte transparent paint to protect your new paint job. Allow the gloss or transparent paint to dry completely.
Warning
Do not use lacquer paint, as it can damage the shell of many helmets.
Always paint in a well-ventilated area to prevent inhaling drying paint chemicals.