Things You'll Need
Plastic paint mixing cup

Latex paint

Water

Paint stirrer

Newspaper

Spray bottle

Water

Paintbrush

Sponge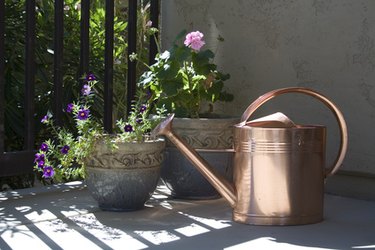 Concrete planters are sturdy, durable containers that contain plants. They often have decorative scroll work and patterns on the exterior which become visible as the concrete develops an aged look. New concrete planters take time to develop this look, which occurs through exposure to air, moisture and outside elements. You can speed the process of aging a concrete planter using painting techniques that simulate the appearance of age.
Step 1
Pour the latex paint into a plastic paint-mixing cup until you achieve the desired coloring. Suggested colors to mix are browns, greens, yellow, gray and small amounts of black. Start with a base of one cup of gray and add the other colors 1 tsp. at a time until the desired color is achieved.
Step 2
Add approximately 1/4 to 1/2 cup of water to the cup and mix with a paint stirrer to dilute the paint.
Step 3
Spread a layer of newspapers on the ground, or other flat surface, and turn the planter upside down on it.
Step 4
Fill a spray bottle with water and spray the planter to moisten it. The planter does not need to be saturated, and it is fine if a few spots remain dry.
Step 5
Dip the paintbrush into the paint mixture and brush it onto the concrete planter in a thin layer.
Step 6
Hold the spray bottle at least 12 inches away from the planter and lightly spritz it with water.
Step 7
Allow the concrete planter to completely dry.
Step 8
Apply additional color to the planter by dipping a damp sponge into the individual paint colors and dabbing it onto the planter. The spot colors that work best are black and moss green. Allow the planter to dry before placing plants in it.