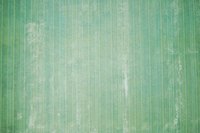 Removing wallpaper can be a difficult and messy task. Chemical or steam techniques for wallpaper removal may leave glue residue on the surface of the wall, which results in an uneven, messy finish. Before painting or applying new wallpaper, you must even and prime the wall so that the new treatment will be smooth and even. Taking the time to make sure the wall is even and well-primed will help ensure a long-lasting finish for your new paint job or wallpaper application.
Things You'll Need
Degreasing wall cleaner
Sponge or cloth
Drywall mud
Trowel
Sander
Sandpaper
Oil-based primer
Roller or paintbrush
Wash the wall with a degreasing cleaner and a sponge or cloth after the wallpaper has been removed. The cleaner will help break up glue and any dirt that was beneath the wallpaper so that the surface is clean.
Apply drywall mud to large holes or cracks in the wall. Wallpaper may have been applied to cover up imperfections in the wall, which now need to be remedied. Follow the manufacturer's directions for applying the drywall mud and allow an appropriate amount of time for the mud to cure. Apply the mud evenly with a trowel to fill any cracks or holes, and smooth away any excess.
Attach sandpaper to a sander, or sand by hand. Sand smooth the drywall mud and any glue that has remained on the wall. Concentrate on removing areas with glue to make them even with the rest of the wall. Wipe away dust with a clean cloth or sponge.
Apply an even layer of oil-based primer onto the wall, using a roller or paintbrush. Oil-based primer will seal the wall. After applying the paint, areas with glue may begin to change texture. Allow the paint to dry.
Sand the wall for a final time to remove any remaining imperfections and to ensure a smooth finish before painting or applying new wallpaper.