Things You'll Need
Newspaper

Black pen

8-inch aluminum pie plate

Ruler

Work gloves

Scissors

Needle-nosed pliers

Paperclip

Telephone book

One-hole punch

20-inch ball chain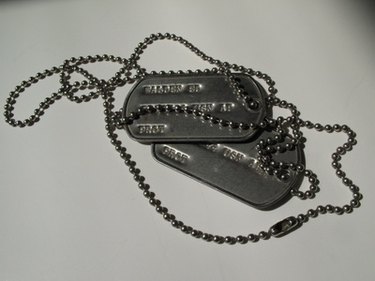 Military identification tags have become known as "dog tags" because they physically resemble the tags that people put on their pets. Make your own army dog tags and play at soldier to your heart's content. You will need a few household items and some supplies from a craft store. Adult supervision is also necessary for kids, since cutting edges and carpentry tools must be used.
Step 1
Put a sheet of newspaper on a table. Put the aluminum pie plate on the newspaper with the flat side down.
Step 2
Draw a 1-1/2 inch by 2-1/2 inch rectangle using the ruler and the black magic marker. Draw a second rectangle on the aluminum pie plate that is the same as the first.
Step 3
Put on the work gloves. Cut out the two rectangles on the aluminum pie plate using the scissors. Discard the rest of the aluminum pie plate.
Step 4
Place the two cut rectangles on the newspaper horizontally. Trim each corner of both of the rectangles with the scissors so as to make the two rectangles into a pair of octagons (shapes with eight equal sides).
Step 5
Clamp the jaws of the needle-nosed pliers on the edge of one of the octagons. Pull back on the needle-nosed pliers to bend the edge a little. Repeat this procedure with the needle-nosed pliers on all of the other edges of both of the octagons.
Step 6
Place both octagons vertically on the newspaper with the bent sides facing down. Smooth all of the edges of both of the octagons with the edge of the ruler to eliminate the sharp edges.
Step 7
Straighten out the ends of the paperclip.
Step 8
Put a telephone book underneath the two octagons. Etch your name on one of the octagons near the top using an end of the paperclip. Etch a made-up serial number underneath your name using the end of the paperclip.
Step 9
Repeat this procedure to put your name and serial number on the other octagon.
Step 10
Punch a hole in the top of each octagon with the one-hole punch, just above your name.
Step 11
String one end of the ball chain through the two holes in the army dog tags you have just made.
Step 12
Close the clasp of the ball chain. Put the ball chain over your head to wear your army dog tags.
Tip
You can use string if you don't have a ball chain.
Warning
The cut-outs in the aluminum pie plate are very sharp, so do not touch them.