Things You'll Need
Photograph

Scanner

Digital camera

Computer

Paint-by-number conversion software

Printer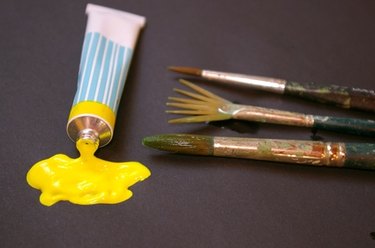 Using paint-by-number sheets is an easy and economical way to break down complicated images so beginning artists can practice and master more advanced scenes. With the introduction of several easy-to-use software programs, converting photos to paint-by-number sheets is easier and faster than ever before. In the past, you would have to study a photograph, painstakingly draw the outlines of the scene, and key in the paint-by-number specifics by hand. This process could take hours or days. Utilizing software allows someone of any level of artistic ability to turn a picture into a paint-by-number sheet with an accompanying key.
Step 1
Scan the photograph you wish to use onto your computer and save the image as a .jpeg or bitmap file. You can also download the image from your digital camera directly to your computer. Digital camera images are typically in .jpeg formats.
Step 2
Open the image using the paint-by-number conversion software program on your computer.
Step 3
Use the buttons in the application to adjust the color and brightness, and then crop, rotate or edit the photograph. You can crop just one element out of a photograph, such as one person's face or one part of a scene, rather than using the entire picture. It is easier for beginning artists to paint a paint-by-number scene of one small element.
Step 4
Choose the color palette and designate the color limit for your paint-by-number conversion. The color limit is the maximum number of paint colors to be used in the conversion. If you only have eight different color paint tubes, chalks or crayons, set the limit to those eight colors. Some programs also allow you to select if you would like the colors to be mixed or blended. For instance, if red and white were in your color limit, selecting "Yes" to blending would allow pink to be blended from the red and white color options.
Step 5
Click on the "convert" button or option. View the paint-by-number image. You may edit the color choices, add text to the image or change the color limit again if you desire. You can also select the size of the paint-by-number image, whether it will fit one printed sheet or more than one sheet.
Tip
If you download the Stoick Color by Number software, you get a 15-day period to try it out for free.
See the resources for an alternative way to make a paint-by-number image using Photoshop or similar graphics program.
Print the final image on canvas on your home printer or send it to a company that specializes in printing photos on canvas for a more professional looking painting.
Warning
Don't forget to save each of the photographs you convert to paint-by-number sheets in addition to printing them so that you can easily reference and print them again in the future or to share with others.