Things You'll Need
Digital camera

Memory card or USB cord

Computer

Internet connection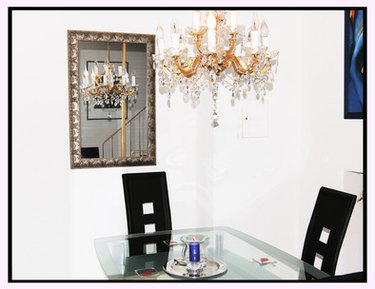 If you wish to paint a room in your home a certain color, but would like to know beforehand what it would look like, you can easily upload a picture of any room in your home to a painting website and literally change the colors of your walls. This way, you'll have a glimpse of what your room will look like when it's painted. As long as you have a digital camera you can change the paint color in any room you want.
Step 1
Take a picture of your room, from any angle, with your digital camera. Make sure that picture is clear and in natural lighting to get the best results.
Step 2
Remove your memory card and slide it into the memory card slot on your computer. Most new computers have this feature. If you don't have a memory card slot in your computer use the USB cord that came with your camera. Plug in one end of your USB cord into your camera and the other end into your computer's USB slot.
A notice on the bottom of your computer screen will pop up alerting you of the new pictures. Select "Upload" or "Import" to upload the pictures to your computer.
Step 3
Right-click on the picture(s) of the room you'd like to change colors. Select "Save As..." and give the picture a name, saving them to your desktop.
Step 4
Connect to the Internet and visit the Sherwin-Williams website. Click on "Homeowner", "Color Ideas and Tools", "Color Visualizer" and "Launch Color Visualizer."
Step 5
Select "Upload Your Photo" on the right of the screen to open a browse menu. Select "Desktop" from the menu, then click on the picture from your Desktop.
Step 6
"Paint" your room. Once the picture is uploaded you can play around with different colors to see which one you like the best.