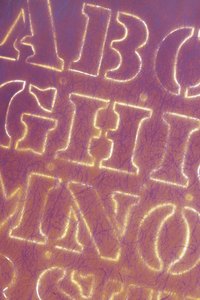 Styrofoam is a highly versatile and inexpensive material for creating three-dimensional lettering. Foam letters can be used in a wide variety of crafts, including wall plaques, ornaments and alphabet learning tools. Unlike standard wood letters, Styrofoam letters do not require hardware or a specialized skill set to produce. You can find Styrofoam panels in nearly any craft store in many colors and thicknesses. Take special care when cutting Styrofoam letters, as the plastic foam may break or crumble in thin areas.
Things You'll Need
Styrofoam panel
Computer
Printer
Scissors
Tape
Marker
Hot wire
Filing tool
Latex paint
White glue
Paintbrush
Purchase a Styrofoam panel in white or the color of your choice. Select a Styrofoam panel that is at least 2 inches thick to prevent the board from snapping when you cut it.
Choose a font style and font size from any word processing program on your computer. Type the desired letters into the word processing program and print.
Cut the printed letters from the paper with scissors. Tape the cut-out letters to the surface of the Styrofoam panel, approximately 2 inches apart. Trace the letters onto the panel with a marker.
Remove the paper letters from the Styrofoam panel. Cut out the Styrofoam letters using a craft knife. Follow the marked lines carefully.
Create a smooth edge around the outside of the letters with a filing tool. Leave the corners of the letters square or round the edges.
Mix 1 part white glue with 2 parts latex paint. Apply a thin coat of the mixture onto the entire surface of the Styrofoam letters. Allow the paint coat to dry and apply a second coat.