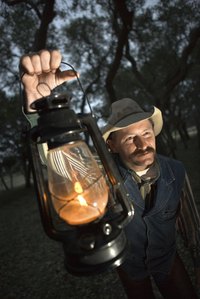 In its natural state, kerosene is clear, with a slight yellowish tone. On store shelves, you'll find clear kerosene, along with red and blue kerosene. Small quantities of red kerosene can also appear pink. Kerosene is dyed to indicate the fuel's low-tax or tax-exempt status. This is required in many nations, including the U.S. Clear kerosene is more expensive, as it is in a higher tax bracket. The clear fuel is intended for use in industry, whereas the dyed kerosene is intended for decorative or home use. Use a small amount of powdered dye to alter the color of kerosene for decorative purposes.
Things You'll Need
Pour the kerosene into the oil lamp's fuel tank.
Add a pinch of powdered food coloring to the kerosene. Add blue coloring to red kerosene to get purple. Add yellow to red lamp oil to get orange. Add red dye to blue kerosene to get purple. Add yellow dye to blue kerosene to get green.
Slosh the lamp oil using a circular motion to dissolve and distribute the dye throughout the kerosene.