Things You'll Need
Table

Large and small plates

Napkins

Cutlery

Serving trays

Serving dishes

Baskets

Serving utensils

Chafing dishes or warming plates

Coffee dispenser

Hot water dispenser for tea

Cups and saucers

Glasses for water or juice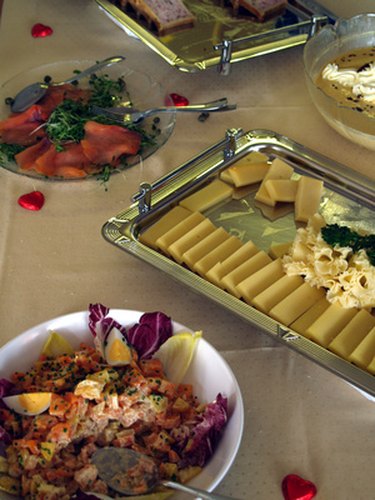 Breakfast buffets are an easy and elegant way to serve breakfast to large numbers of guests with minimal effort. If possible, hire a caterer or other assistant to help keep things refilled for more formal occasions so that you can relax and enjoy the food. Buffets can also be set up on a more casual basis for families where everyone can pitch in. Don't worry about having full dish sets; mix-and-match dishes can look quite eclectic and charming.
Step 1
Place your buffet table at least a couple of feet from the wall if you are having more than six guests. This will allow people to come on both sides of the table and it will give you space to replenish empty trays.
Step 2
Place large and small plates at the side of the table that guests will be coming to first. Large plates will be for the main and side dishes and the smaller plates will be for items such as bagels and pastries. Bundle utensils within a folded napkin so that they will be easy for guests to grab and carry.
Step 3
Set up serving dishes and baskets for your cold items first, such as fresh fruit, bagels and pastries. The idea is to keep hot items from cooling off as guests make their way through the buffet. Fill serving trays and dishes to almost overflowing so as to give the impression that you have more than enough food for everyone.
Step 4
Place chafing dishes or other warming plates with your main hot dishes. Start with meats, if you have any, then egg dishes and then other hot items such as pancakes, waffles or French toast. Next to those will be hot side dishes, such as potatoes. Keep some space behind the dishes for the hot lids to be set down as needed.
Step 5
Set up a drink station either at the end of the table or ideally at a separate table placed near the end of the main table. This makes it easy for guests to put down their dishes before carrying hot coffee and allows for easy refills. Have coffee, teas and juices available, along with glasses, cups, saucers, spoons, sugar, milk and cream.