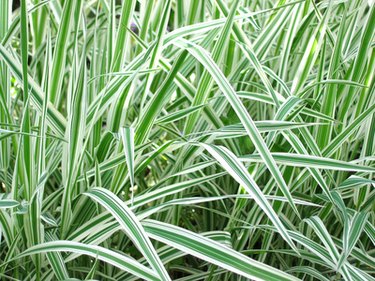 Ornamental grasses are great for filling in landscaping and decorating the outside of your home. However, if you decide to change the look of your yard, you may need to know how to get rid of beach grass, how to get rid of prairie grass or how to remove other types of ornamental grasses. Thankfully, there are several methods for how to remove tall grass plants from your property.
Killing Ornamental Grass By Digging It Up
One of the more effective methods for how to get rid of ornamental grass in gardens is to dig it up completely. This way, you dig up the plants and the roots so they can't grow back.
Begin by cutting the ornamental grass to about 2 inches in height. Use a weed whacker or trimmer to accomplish this task so that you can better see the root system of the grasses. Then, you can use a shovel to dig up the roots. Push the shovel underneath the roots and use it to remove them. If they're difficult, you can soak the grass beforehand with a garden hose to loosen the dirt.
Continue digging until you have removed all the grass roots that you can see. If you're wondering what to do with ornamental grass clippings, you may need to check with a local waste disposal company or gardening center. If they aren't considered invasive where you live, you can probably throw them away normally or compost them.
Killing Ornamental Grass With Vinegar or Herbicides
You can also use an herbicide or try killing ornamental grass with vinegar. This method is an excellent idea if you have an area of ornamental grass to clear that doesn't have other plants near it.
Once again, you'll want to begin by using a trimmer to cut the grass down to a couple of inches so you can see and access the roots. Select a glyphosate plant killer and carefully read the manufacturer's instructions for using it. Be sure to wear protective gear since glyphosate can be dangerous if you come in contact with it.
In addition, be very careful not to get the weed killer on any other plants, as it will also damage or kill them. You will need to fertilize and treat the soil before planting anything else even if you have already fertilized it. Alternatively, you can use a homemade, nontoxic solution of vinegar and dish soap (two squirts) in a squirt bottle.
The Easiest Way to Remove Ornamental Grasses
The easiest way to remove ornamental grasses is called solarization. Essentially, you let the sun bake the roots until they are dead. However, before you choose this method, you should be aware that it takes a long time.
You'll want to start by cutting down the grass as close to the roots as possible. Start with a trimmer and then use gardening shears to get it as short as you can. Once you've cleared away all of the trimmings, you should soak the ground using a garden hose or watering can.
You'll want to lay down a tarp on top of the wet ground and weigh it down with rocks or bricks. The sun will beat down on the tarp, creating high temperatures on the ground underneath it, which should kill most things in the ground, including the roots of the ornamental grass.