Things You'll Need
Pliers

Empty juice or milk jug

Carb cleaner

Gas/oil mixture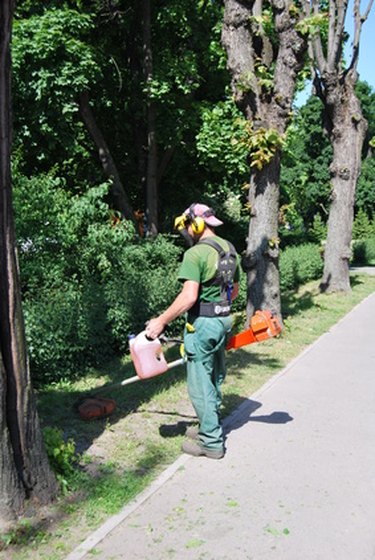 Trying to get your two-cycle Poulan leaf blower engine started is hard enough without having to worry about a fuel blockage. Over time, the debris you blow around can get into your gas mixture and slowly gum up in the carburetor on the engine. Cleaning the carburetor will allow the gas mixture to be injected into the engine properly.
Step 1
Set the leaf blower on the ground. Locate the black gas hose attached to the bottom of the gas tank. The hose will lead to the carburetor.
Step 2
Squeeze the tines on the clamp holding the gas hose onto the side of the carburetor with your pliers, and slide the clamp off. Pull the gas hose off and point it into the jug to catch the old gas mixture.
Step 3
Spray the carb cleaner spray directly into the carburetor via the hole you exposed by taking the gas hose off. Spray the cleaner for 10 seconds--this loosens all the old gummy gas and allows it to be injected and burned up in the engine the next time you start the leaf blower. Clamp the hose back onto the carburetor.
Step 4
Unscrew the bolt that is screwed into the base of the carburetor with the pliers. (This will make the fuel bowl on the bottom of the carburetor fall off.) Dump out any old, gummy gas in the fuel bowl into the jug. Place the cap on the jug of the old gas/oil mixture and place it in your trash.
Step 5
Spray carb cleaner in the bowl and on the entire area above the bowl. Place the fuel bowl back on and screw the fuel bowl bolt back in tightly.
Step 6
Unscrew the cap on the gas tank and fill the tank full of a new gas/oil mixture made for your specific model of Poulan leaf blower. Replace the gas cap.
Step 7
Start the leaf blower to burn up all the gummy gas you loosened up in the engine with the carb cleaner spray. Run the engine for several minutes, then shut it off.