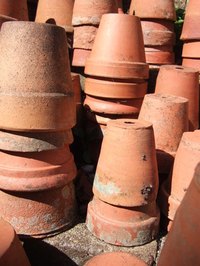 Whether for planting outdoors or for a different type of display, a wise gardener will prepare her terracotta pots properly before proceeding with the intended project. Because terracotta is porous, it will absorb moisture. Over time, this moisture absorption can harm the surfaces of the terracotta and lead to damage. Proper preparation of the terracotta pots protects their beauty for years.
Things You'll Need
Wipe the inside and outside surfaces of the terracotta pot with the damp cloth to remove any dirt or dust. Let the pot dry completely.
Spread the newspaper out onto a flat work surface and place the terracotta pot onto the newspaper.
Hold the spray sealer 10 to 12 inches away from the terracotta pot and direct the spray over every inside and outside surface of the pot. Cover the surfaces with an even layer of spray.
Allow the spray sealer to dry, following specific drying recommendations found on the product label.
Apply a second coat of the spray sealer to the terracotta pot, following the same process. Allow the pot to dry completely again.