Things You'll Need
2 black pipe cleaners

1 red pipe cleaner

1 green pipe cleaner

1 blue pipe cleaner

1 yellow pipe cleaner

Wire cutters

Beads (all one color)

Styrofoam

Box cutter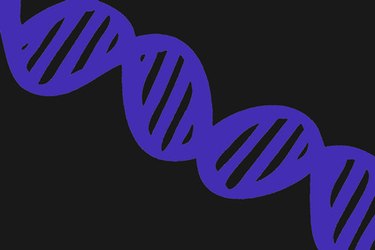 DNA is one of the most basic elements of biology, taught in nearly every biology class. One popular biology project for students is to make a model of a strand of DNA. This may seem difficult and complex, but it is actually simple. With some pipe cleaners, beads and other basic craft supplies, any student can make a DNA model quickly and easily. Best of all, this DNA model is easy to personalize and customize.
Step 1
Cut up the red pipe cleaner into four pieces of equal length. Repeat the process with the green, blue and yellow pipe cleaners.
Step 2
Match up the red and green pieces by wrapping one red end around one green end so that you now have four pieces that are red on one end and green on the other. Repeat the process with the blue and yellow pieces.
Step 3
Lay the black pipe cleaner pieces parallel to each other on a table. Lay the two-toned pipe cleaner pieces across the black pieces down the middle, spaced evenly, so that they look like rungs on a ladder.
Step 4
Wrap the ends of the top two-toned piece around the black pipe cleaners. Slip a bead onto each of the black pipe cleaners, directly underneath the two-toned section.
Step 5
Attach every two-toned piece to the black pipe cleaners in the same manner, slipping a bead in between each one.
Step 6
Cut two pieces of Styrofoam that are 1/4 inch thick, three inches long and 1/2 inch wide. Stick the Styrofoam pieces onto each end of the black pipe cleaners.
Step 7
Twist the black pipe cleaners at each end in separate directions to make a spiral shape, or double helix.