Things You'll Need
Old sheet

Ladder

Vacuum cleaner with crevice tool and hose or can of compressed air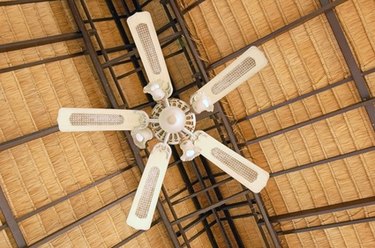 Dust, dirt and grime seem to collect on the blades of ceiling fans overnight. No matter how much you clean, airborne dust and dirt is constantly attaching itself to the components of your ceiling fan, including the fan's motor. Dust and dirt, if left on your ceiling fan, can eventually clog the fan's motor and cause it to fail. When cleaning your ceiling fan's motor, you don't need to take the fan down from the ceiling or to call in a repairman. You can clean the motor yourself.
Step 1
Turn off the ceiling fan, if it is on. Place an old sheet under the ceiling fan. If any furniture is under the fan, move the furniture to the side.
Step 2
Place a ladder to one side of the fan. Place your vacuum cleaner, with its hose and crevice tool attached, on the other side of the ceiling fan.
Step 3
Turn on the vacuum, climb the ladder and vacuum the openings above the ceiling fan's blades---this the housing containing the fan's motor.
If the motor housing is movable, slide the housing up or down to access the entire motor.
Step 4
Vacuum the top of the motor's housing to remove dust and dirt from inside of the housing. Vacuum the top of the ceiling fan's blades to collect any dust, dirt and debris that has fallen from the housing.
Step 5
Roll up the old sheet after you are done cleaning the ceiling fan. Shake off any debris on the sheet into your home's trash receptacle.
Tip
Clean your ceiling fan motor/housing monthly to keep dust and dirt from building up on the fan.
If you don't have a vacuum cleaner with a hose and crevice tool, use a can of compressed air to blow dust and dirt from your ceiling fan's motor and housing.