Things You'll Need
Yarn

Knitting needles

Tapestry needle

Measuring tape

Crochet hook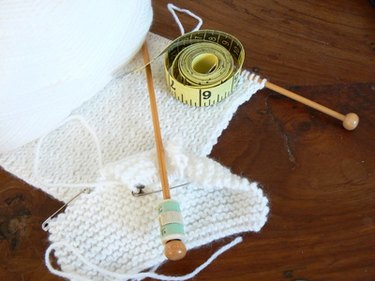 House slippers keep your feet warm and cozy during cold winter days. Some slippers resemble socks, while others are simple in their design and construction. Simple slippers are an excellent project for beginning knitters. Knitters should know how to cast on, knit, bind off, sew a seam and create a single crochet stitch before attempting a pair of slippers.
Step 1
Select a yarn in the fiber and color of your choice. Use a medium-weight yarn. Yarns of this weight are labeled aran or worsted weight.
Step 2
Use a pair of 5 mm, or US 8, straight knitting needles.
Step 3
Cast on 40 stitches in the method of your choice. Elizabeth Zimmerman's stretchy crocheted-cast on is a good choice for this project, though any cast-on method works.
Step 5
Continue knitting until the piece measures approximately 4 inches.
Step 6
Cast off in the method of your choice. A stretchy cast on is a good idea, but not necessary. Cut the yarn, leaving a 6-inch tail.
Step 7
Thread a tapestry needle and weave in the loose ends of yarn from casting on and binding off.
Step 8
Fold the knit piece of fabric in half, creating a rectangle from the knit fabric. Sew both of the shorter sides of the rectangle shut.
Step 9
Sew the longer open end of the rectangle shut, stopping half way. By stopping half way, you create a space you can slide your foot into.
Step 10
Use a crochet hook and excess yarn to create a row of single crochet stitches around the opening for your foot. This ensures that the opening doesn't warp or stretch out of shape with wear and use.
Step 11
Weave in any loose ends to secure them.
Step 12
Repeat the process for a second slipper.
Tip
Use this project as a platform for trying out new stitch patterns. Instead of knitting every row to create garter stitch, use a stitch pattern like stockinette, moss or ribbing.