Things You'll Need
Ammonia-based cleaner

Rubber gloves

Paint stripper

Paintbrush

Scraper

Paint thinner

Steel wool

Sandpaper

Palm sander

Rags

Stain

Polyurethane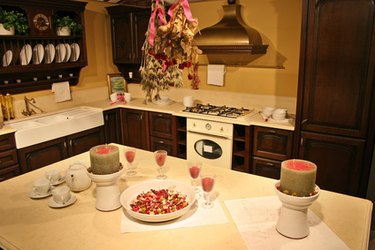 Refinishing cabinets gives them new life and an upgraded appearance without the costly undertaking of having the cabinets refaced. As long as your cabinets are in good shape and you like their basic style, you can strip off the old stain and change their color. Painting birch cabinets can be tricky, however, because the stain tends to blotch. A couple of extra steps will prevent blotching and give you a beautiful finish.
Step 1
Clean the cabinets thoroughly with an ammonia-based cleaner and a rag. Wipe away all grease and residue from the cabinet surface.
Step 2
Put on rubber gloves and open windows and doors for ventilation. Apply chemical paint stripper to the cabinets with a paintbrush. Wipe on a ¼-inch-thick coat of paste and let it sit on the cabinets long enough to penetrate the finish (usually 20 to 30 minutes).
Step 3
Scrape away the finish with a paint scraper. Remove as much as you can with the scraper, wiping it clean periodically on a towel. Apply some paint thinner to a piece of steel wool. Use the steel wool to remove the finish from spots that didn't come clean with the first application of paint stripper.
Step 4
Sand the cabinets to remove any remaining finish. Attach medium-grit sandpaper to a palm sander. Run the sander firmly over the cabinets. Sand until you're left with bare wood. For areas that can't be reached with the sander, fold a loose piece of sandpaper in half and manually sand the corner and crevices. Wipe away sanding dust with a damp rag.
Step 5
Apply new stain to the birch cabinets with a good-quality brush. Choose gel stain over other types of stain: Gel is thicker and will penetrate the wood more evenly. Birch has a tendency to get splotchy, with darker patches in some areas. Prevent this by using a gel stain and go slowly. Brush on a light coat and wipe away any excess with a clean rag.
Step 6
Stand back and evaluate your stain color. Apply an additional coat of the gel stain (multiple thin coats are best). Wipe away the excess with a clean rag and keep applying coats of stain until you get the depth of color that you like.
Step 7
Apply a coat of polyurethane, which will help to protect the birch from nicks and dings. Apply the topcoat with a paintbrush. You may see some bubbles in the topcoat when you first apply it; these bubbles will disappear after a few minutes. Allow the topcoat to dry.