Things You'll Need
Tarps

Painter's tape

Palm sander

150-grit sandpaper

Safety glasses

Dust mask

Tack cloth

White, semi-gloss enamel paint

Bucket, 5 gallon

Paint thinner

Paint tray

Paint roller with 1/8-inch cover

Paint brush

Disposable gloves

Cloth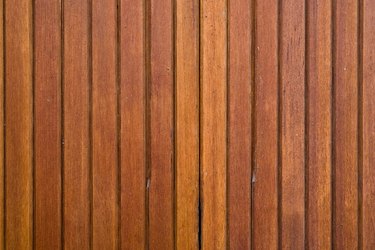 Whitewashing is a technique where you apply a very thin white paint to the surface of wood to create a semi-transparent stain. The technique works well on tongue-and-groove paneling installed on a wall, and allows the wood grain of the paneling to remain visible. The process of whitewashing is not a challenging one. However, it can get messy, so proper preparation is critical.
Step 1
Spread tarps over the floor in the room where the paneling is located. Tape down the edges of the tarp using painter's tape to prevent it from shifting as you walk on it.
Step 2
Install 150-grit sandpaper onto a palm sander and don safety glasses and a dust mask. Plug in the sander and turn it on. Move the sander over all the surface of the wood, just to create a slightly rough finish.
Step 3
Wipe down the walls using a tack cloth to remove all of the wood dust.
Step 4
Open a gallon of white, oil-based, semi-gloss enamel paint and pour it into a 5-gallon bucket. Then add 1 pint of mineral spirits to the paint and mix it thoroughly.
Step 5
Pour some of the paint mixture into a paint tray. Insert a 1/8-inch nap roller cover onto a paint roller and insert it into the paint tray until saturated. Roll the paint onto the wall in long strokes until all of the wood is covered.
Step 6
Fill in any missed areas in corners or near the baseboard using a paintbrush dipped into the thinned paint mixture.
Step 7
Wait for three to five minutes, then put on disposable gloves. Hold a cloth at the top of the wall and pull it gently down to the floor to remove some of the paint. Repeat the process over the entire surface of the wall.
Step 8
Examine the wall to see if the whitewash is too light, and if needed, apply a second coat in the same manner. If the whitewash is too thick, immediately wipe it again with a clean cloth.