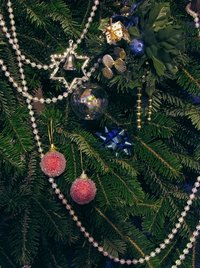 When you are thinking about adding a little bit of fake snow to your Christmas tree or holiday decorations, you do not need to purchase artificial snow. Instead, you can make artificial snow at home using ingredients that are available at any grocery store.
Things You'll Need
Ivory bar soap
Cheese grater
Mixing bowl
Liquid starch
Measuring cup
Blue food coloring
Egg beater
Grate the white Ivory bar soap until you have 2 cups of soap flakes.
Place the soap flakes in a mixing bowl.
Add 2/3 cup of liquid starch to the bowl.
Add 3 to 5 drops of blue food coloring and 3 tbsp. of water to the bowl slowly.
Mix the contents of the bowl with an egg beater until the mixture is thick and the blue food coloring has given the mixture an icy blue look.
Apply the mixture to your decorations with your fingers. It will clump and give your decorations the look of having sat in the falling snow.