Things You'll Need
Unpainted wooden bird house

Assorted nuts and seeds

Wild bird food

Measuring cup

2 tablespoons corn syrup

1 teaspoon white vinegar

2 tablespoons cornstarch

Saucepan

Bowl

Newspaper

Craft stick

Paper plate or bowl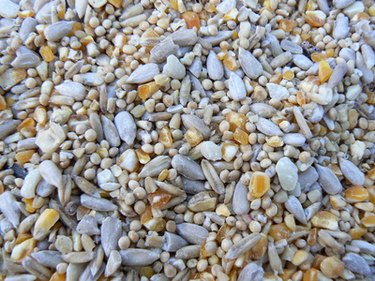 Making an edible bird house is crafting with a purpose. Kids and adults enjoy getting a little messy and creative as they assemble the house. After it's completed, it provides hours of entertainment. Bird lovers can watch as their feathered friends put the homemade bed and breakfast to good use. By using a few different types of feed, you can customize your edible birdhouses to suit a variety of eater-occupants.
Step 1
Mix together 3/4 cup water, corn syrup and white vinegar in your saucepan to make an edible glue. Bring the ingredients to a boil. Mix together the corn starch and another 3/4 cup water in your bowl, then add it slowly to your saucepan. Allow the mixture to resume boiling, then let it boil for 1 minute. Remove from heat and allow the glue concoction to cool completely. Put it back in your bowl and allow it to sit overnight.
Step 2
Prepare your workspace. Place your wooden bird house on several sheets of newspaper. Pour some birdseed into your paper plate or bowl. This should be a generous amount, as it needs to cover the outer walls of your house.
Step 3
Apply your birdseed to the house. Using your wooden craft stick, spread your glue mixture onto the wooden house. You may want to do this one section at a time to prevent the glue from drying too soon. Now sprinkle your birdseed over the glue, allowing it to fully coat the walls and roof. Repeat this process until the house is covered completely.
Step 4
Add the finishing touches. Use your glue to attach some sunflower seeds or nuts around the opening of the birdhouse, or anywhere else you want to add a little something extra. Allow the house to sit overnight to dry completely.
Step 5
Hang your bird house outside and watch as birds come by to nibble at the walls and maybe even nest inside. Once they've picked the house clean, you can mix another batch of the glue and re-coat the house with seed.
Tip
If you want to use items other than seeds and nuts to decorate your house, try dried berries or corn. You could also add bits of yarn or string, as these would be items a bird could use to build a nest inside your house.
Warning
Don't take the house down to redecorate it if your feathered friends have made a home inside. Wait until they have moved on.