Things You'll Need
Invitations

Decorations

Food and beverages

Trunk

Camera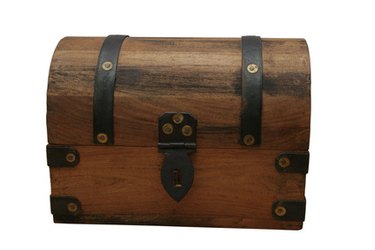 Throwing a college trunk party allows you to help your student get all of the things that he needs for college. The idea of a trunk party is that guests should bring items that may be needed by a college student--bedding, an alarm clock, school supplies, posters and other items that can make a dorm room feel more like home. These gifts should all theoretically fit in a trunk, which would have been the traditional way to transport belongings to college. Some people may not be familiar with the idea of a trunk party, so you'll have to be upfront about what it entails.
Step 1
Send invitations to friends and family. Include a picture of the graduate on the invitation. Explain that this is a trunk party and what that means, so that guests understand that they should bring gifts related to college.
Step 2
Decorate for the party. Use items in the school colors of the student's chosen college. Decorations could include college pennants, streamers, balloons, table cloths and napkins.
Step 3
Place a trunk in an obvious location. Guests should put their gifts into the trunk. Locate this close to the entrance to the party.
Step 4
Prepare food for your guests. Because the party is likely to be in the summer, cookout foods, such as hot dogs and hamburgers, are appropriate. You can also give foods cute names based on the college your student will be attending, such as "Bulldog dogs."
Step 5
Set up music for the event. You don't need a DJ for the party but it's nice to have some music available. Hook up your iPod to some speakers for hands-off music. Choose songs that relate to college, such as the college fight song.
Step 6
Take photos of all of the guests for a photo album. The first year at college can be a lonely one. Your student will be happy to have pictures of the people he loves along with him.
Tip
Ask guests to each write a college tip down on an index card.