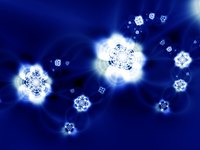 Most people remember making paper snowflakes as winter and Christmas decorations. Some do it at home as a pretty and inexpensive way to decorate while some teachers use them as a fun classroom activity before the holidays. Children enjoy making them because they have something to admire when they are done, though sometimes who did what gets lost in the shuffle. Cutting names into your snowflakes is a fun way to teach children about letters or simply to personalize your snowflakes. No will ever accidentally swap again. They are easy to make and make a good cold afternoon activity.
Things You'll Need
8 inch by 8 inch paper squares, any color
Pencil
Scissors
Fold your paper square in half so that you have a triangle. Fold the triangle in half to form a smaller triangle. One side of the triangle should be one large fold (side A) another side should have two smaller folds (side B) and the third side should be all open edges (side C).
Turn the triangle so side A is facing you and side B is to your left. Write your name along side A. The letters should be thick bubble letters but the size and shape is up to you. If your name is long, use a nickname or initials.
Carefully cut the letters out by cutting into side A (otherwise the snowflake will fall apart). Work slowly, making sure to outline each letter precisely. Letters with "holes"— O's, A's, B's, etc.— will be outlines of the letters with no inner details.
Gently unfold your snowflake. Your name should be repeated four to eight times around the center of the snowflake. You may either paste the snowflake to another piece of paper to preserve it or simply hang it as is.