Things You'll Need
Egg holder

Acrylic paint

Paint brushes

Paper cup

Polyurethane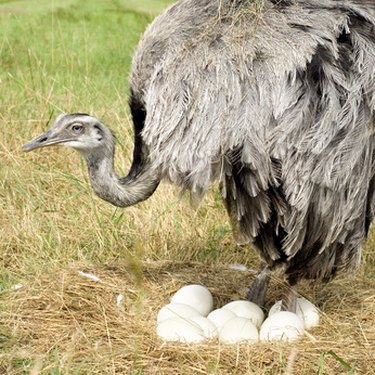 Crafters should experiment with painting on different surfaces such as canvas, wood and plastic. One surface that is a little unusual is an ostrich egg. The result of this creative endeavor is a glossy egg that is a decorative piece of art. The egg will look stunning and will be quite a conversation piece when you set it on an egg stand on a coffee table or a fireplace mantle in your living room.
Step 1
Wash the egg with soap and water to remove any oil residue from your hands. Place the egg on an egg holder and allow to dry.
Step 2
Hold the ostrich egg in one hand. Use a paintbrush to apply gesso to the surface of the egg. Gesso serves as a primer that will create a smooth, even surface on which to paint. Paint each side of the egg one at a time starting from the top and working your way down. Allow a side to dry and then paint the other sides. Allow the gesso to dry for several hours.
Step 3
Dilute acrylic paint with water so it has a watercolor consistency. Apply one layer of paint and then drop in a few drops of another color. Let the colors swirl together to create a marbleized look. You can also apply one solid color to the egg if you prefer. Work on the background of your design first, just as if the surface of the egg were a canvas. Allow the background to dry for several hours.
Step 4
Paint the design that you desire on the ostrich egg. Some popular designs include roses, vines, landscapes or animals. You can also create random designs in contrasting colors for a funky-looking egg. Work on the large parts of the design first and then paint in the finer details.
Step 5
Wipe your paint brush on the edge of a paper cup to remove excess paint as you work. This technique will prevent leaving streaks and brush marks as you paint.
Step 6
Allow the ostrich egg to dry for several hours when you have finished your design.
Step 7
Apply a thin, even layer of polyurethane to the egg with a paint brush. This protective varnish will give your egg a glossy look. Allow the egg to dry for several days.