Things You'll Need
Nail polish remover

Cotton swab

New razor blade

Glass cleaner

Paper towels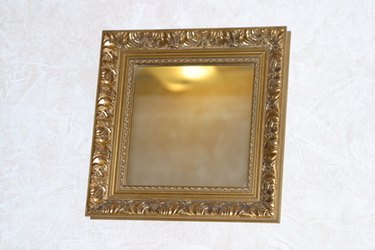 Distributed since 1973, Krazy Glue gets its strength from the chemical ethyl cyanoacrylate. According to the manufacturer, Krazy Glue is non-toxic, colorless and fast-acting. It can lift 2,000 pounds per square inch. Krazy Glue bonds instantly to almost any surface, including mirrors. Fortunately, acetone releases the bond so you can easily remove it from any mirror.
Step 1
Swab the Krazy Glue with a small amount of nail polish remover on a cotton swab. Take care not to get nail polish remover on the mirror frame as it can damage painted surfaces. The Krazy Glue should come off easily.
Step 2
Carefully scrape any remaining glue off with the edge of a razor. Hold the razor at a 45-degree angle and work slowly so you don't scratch the mirror glass. Don't drag the razor back and forth, but lift the razor up between strokes.
Step 3
Spray the mirror with glass cleaner and wipe clean with a paper towel.
Tip
Choose a precision tip Krazy Glue product for greater control of the glue. Store Krazy Glue tightly closed in a cool, dry place. Allow glued items to sit overnight for maximum adhesion. Krazy Glue bonds almost anything, including skin. Wear gloves if possible when handling it.
Warning
Use care when handling the razor and nail polish remover. Follow package directions and keep both out of children's reach.