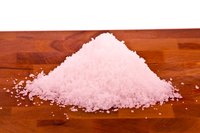 Growing quick crystals at home is a fun science project you can do with your kids using just a few common household ingredients. They grow quickly--even as early as the first day so it's fun for kids to watch because you get such fast results. There are many types of crystals you can grow but the main ingredient in this particular recipe is non-iodized sea salt. This is one of the fastest growing crystal recipes you can make.
Things You'll Need
Petroleum jelly
Small glass bowl
3 charcoal briquettes
Tablespoon
Drinking glass
6 tbsp. sea salt, not iodized
4 tbsp. Mrs. Stewarts Liquid Bluing (found in the laundry aisle of most grocery stores)
4 tbsp. water
4 tbsp. ammonia
Food coloring (optional)
Coat a glass bowl with petroleum jelly to keep the crystals from sticking to it.
Place three charcoal briquettes in the bottom of the bowl.
Stir together 4 tbsp. of un-iodized sea salt, 4 tbsp. of Mrs. Stewart's Liquid Bluing, 4 tbsp. of water and 4 tbsp. of ammonia in a glass.
Pour the mixture on top of the charcoal, making sure the liquid covers at least halfway up the charcoal. If not, make more mixture and pour on top or find a smaller bowl.
Add 2 more tbsp. of sea salt on the second day.