Things You'll Need
Poster board

Yardstick or tape measure

Pencil

Markers, paints or colored pencils

Scissors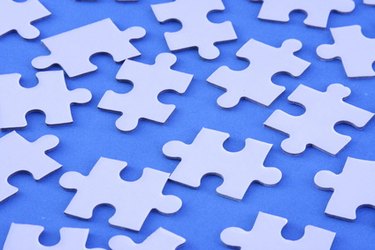 Puzzles are fun to work on for a person of any age. Jigsaw puzzles, in particular, can be challenging, beautiful and give a sense of pride to the person who finishes them. Large puzzles, whether the pieces are small or big, are fun to make and can be used for any number of occasions. To create a poster-size jigsaw puzzle you need only a few supplies and an image in mind of what you want your puzzle picture to look like.
Step 1
Place your poster board on a flat surface with the gloss side facing up. Decide the approximate size of your puzzle pieces by inches, such as 1-by-1-inch or 2-by-2-inch pieces. The larger the pieces the easier the puzzle is, so consider the age group of the people who will be working the puzzle.
Step 2
Start on one corner and place your yardstick or tape measure along one side of your poster board. Use the pencil to mark a small line at equal intervals depending on the size pieces you want to use. For example, for 2-by-2-inch pieces make a mark every 2 inches down the side of the poster board. Continue marking interval lines on all four sides.
Step 3
Set the yardstick across your poster board and draw horizontal and vertical lines lightly across the poster board, according to your interval marks, to make a grid. Draw in the notched areas where each square connects to one another to make the classic puzzle piece shape.
Step 4
Flip the poster board over to the matte side and draw the picture you want to use for your puzzle. Use markers, paints or colored pencils to create and color your image.
Step 5
Incorporate lots of small details in your picture; use a limited number of colors to make the puzzle more challenging. Easier puzzles will use large objects with less detail and a variety of colors so the pieces are easily distinguished.
Step 6
Flip the poster board back over once your drawing is complete and any paint is thoroughly dry. Use scissors to cut apart the poster board along your lines, taking care not to bend or fold the small tabs and notches as you cut.
Tip
Before you cut apart the puzzle pieces, take a picture of the finished drawing to give others a frame of reference for what they are trying to piece together. Store the pieces with the photo in a plastic bag.
To keep the puzzle more durable, consider having the poster board laminated or spread clear contact paper over the poster board before you cut the pieces apart.