Things You'll Need
Tulle fabric

Pins

Disappearing fabric marker

Sewing machine

Matching thread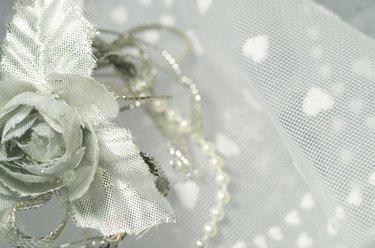 Whether you are sewing tulle flounces for a little girl's party dress or adding tulle to a wedding gown or veil, gathering is a common step when sewing with tulle. The best way to gather tulle is to sew long gathering stitches directly onto the tulle netting. As you stitch on tulle, however, sew carefully to avoid making mistakes that will necessitate repairs to the delicate fabric.
Step 1
Determine the point on the tulle where you must stitch the gathers. Make marks at this point either with pins or with the disappearing fabric marker. Determine the length you want the tulle fabric to be after you finish gathering it.
Step 2
Set the sewing machine to a basting stitch and change the stitch length to 6 mm to create long basting stitches.
Step 3
Sew the basting stitches along the tulle until you reach the end of the fabric, cut the thread and remove the tulle from the machine.
Step 4
Pull the gatherings stitches from the starting point and ending point of your stitching. Push the fabric gently as you pull, and arrange the tulle gathers so they are even. Continue pulling the gathering stitches until the piece of fabric is the length you desire.
Step 5
Insert a pin at each end of the fabric and wind the excess gathering threads around the pins to hold the gathers in place.
Step 6
Set the sewing machine to a regular running stitch and return the stitch length to 2.5 mm.
Step 7
Place the tulle back on the sewing machine and stitch over the basting stitch to set the gathers firmly in place. Remove the pins when you finish.