Things You'll Need
Blank t-shirt

Iron-on letters

Iron-on numbers

Newspaper

Iron

Cotton towel

Fabric pins

Iron-on decals (optional)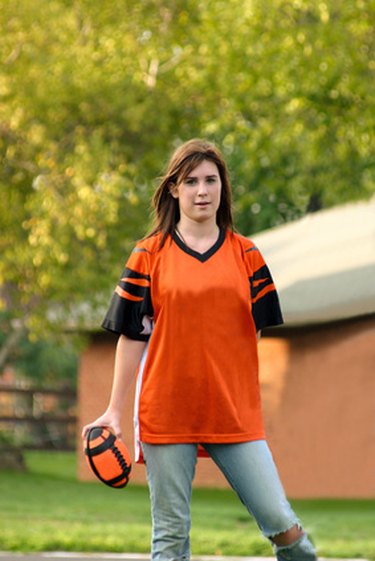 Jersey shirts are tees that look like genuine jerseys, complete with letters, numbers and team decals. They are almost as popular as true jerseys, due largely to the fact that they are more comfortable to wear and less expensive. You can make your own custom jersey shirt at home with a few materials.
Step 1
Purchase a blank t-shirt with no pockets, iron-on letters (to spell your name) and two sets of iron-on numbers from your local craft or hobby supply store. If you want to have a more authentic-looking jersey, purchase iron-on numbers that are at least 6 inches in height.
Step 2
Lay newspaper onto the surface you plan to make your shirt on. Fold the towel in half and insert it under the shirt–this will allow the iron-on letters and numbers to lay flatter and have a smoother appearance.
Step 3
Iron one set of numbers onto the center-front of the shirt, according to the directions on the package.
Step 4
Turn the shirt over after 15 minutes and iron the second set of numbers onto the back, centered in the middle of the shirt.
Step 5
Position the iron-on letters how you want them to look on the finished shirt and pin them in place. One by one, take out the pins and iron the letters onto the back of the shirt.
Step 6
Iron decals onto the sleeves of the shirt if you desire. This will give the jersey shirt a more authentic look, since genuine jerseys often have team logos sewn onto the sleeves.