Things You'll Need
cotton swab or cotton ball

rubbing alcohol

non-acetone nail polish remover

soft cloth

mild soap

water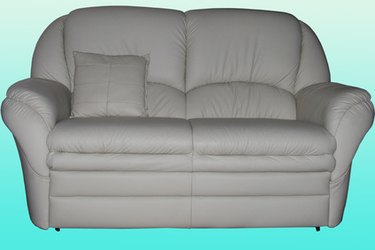 Blue ink on white leather can be a nightmare to remove if you do not know the proper removal method. Although leather is durable and flexible, eliminating stains from the fabric requires special care to avoid permanent damage. Fortunately, you can remove blue ink from white leather using products you may already have in your home.
Step 1
Apply a small amount of rubbing alcohol to a cotton swab or cotton ball. Carefully rub it on the blue ink stain.
Step 2
Allow the material to air dry. If you can still see the blue ink stain, apply non-acetone nail polish remover to a soft, clean cloth and rub the stain. The stain should lift almost immediately.
Step 3
Wipe the leather with a soft cloth, mild soap and water to remove any traces of the non-acetone nail polish remover.
Tip
Keep your leather in excellent condition by using a leather conditioning cream after cleaning.
To keep your white leather items more stain resistant, treat them with a leather protection cream to repel dirt and stains.
Periodically clean your white leather with a damp cloth to keep it fresh and vibrant.
Warning
Some leathers are more stain resistant than others. For example, Nubuck, a thicker, stronger leather, does not repel stains well and may require that you contact a professional to remove the ink stain; Semi-Aniline leather has a protective coating which makes it possible for you to remove the ink stain yourself. Read the manufacturer's tag on your white leather product to determine what type of leather you have, then test the ink-removal method on a discrete area of the leather to prevent permanent damage to your leather.