Things You'll Need
2 egg whites

2 tsp. lemon juice

Mixing bowl

Wire whisk

2 cups powdered sugar

Flavored syrups or extracts (optional)

Food coloring

Spatula

Piping bag and tip

Plastic transparencies (acetate sheets)

Cookie sheet

Paper towel

Vegetable shortening

Wax paper

Air-tight container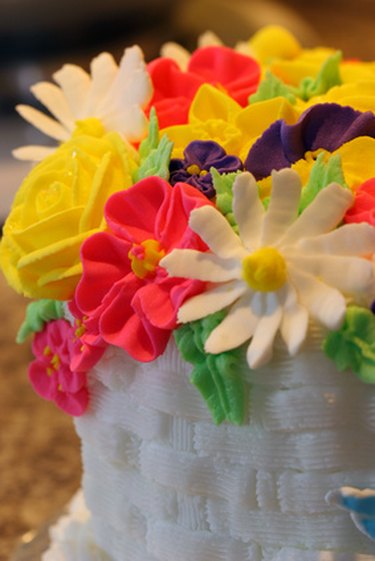 Cake icing can be made into creative homemade candies with the addition of custom flavors and colors. Cake icing is a very basic combination of whipped egg whites and powdered sugar. The low moisture content of cake icing causes it to dry out quickly and develop a light, crisp consistency. Using the icing as a candy base allows you to experiment with different designs, colors and tastes to create a variety of cake icing candies.
Step 1
Whisk the egg whites and lemon juice vigorously a mixing bowl until they form stiff peaks. To test, scoop up a dollop of foam with the whisk and hold it over the bowl--if it flattens back into the whisk, it's not stiff enough.
Step 2
Stir slowly, as you sprinkle in the powdered sugar a little at a time, until it is fully combined.
Step 3
Add a couple drops of flavored syrups, extracts or food coloring to the icing and gently fold them in with a spatula.
Step 4
Fill the piping bag with icing. Use the spatula to gently compact the icing and press out any large air pockets.
Step 5
Lay out the plastic transparency on a cookie sheet and clean the side that is facing up with a dry paper towel. Buff vigorously in a tight circular motion to make the plastic shiny. This will remove any dust that is clinging to the surface because of the static.
Step 6
Fold a new paper towel in half three times and dip a corner into vegetable shortening so that it is lightly coated.
Step 7
Spread the vegetable shortening in a thin layer on the clean upward-facing side of the plastic transparency.
Step 8
Pipe the cake icing directly onto the greased transparency in creative shapes and designs that are no more than one inch tall. Make a variety of forms, such as small stars, circles and letters, by creating an outline then filling it in. Create a simple flower by piping out a small center circle, petals, a stem and leaves.
Step 9
Slide the cookie sheet into the refrigerator and allow the icing candy designs to dry for 8 hours or overnight. Lightly rest a single sheet of wax paper over the candies to protect them from falling crumbs in the refrigerator.
Step 10
Store dried icing candies in a food-safe glass or plastic air-tight container in the refrigerator for up to a month.
Tip
Dip icing candies in melted chocolate for an even more extravagant treat.