Things You'll Need
Curtain rod

Measuring tape

Fabric

Scissors

Sewing machine

Snap-on grommets

Fabric pencil

Fray prevention liquid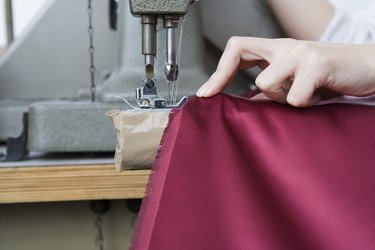 Grommet top valances offer modern styling. They provide a clean line appearance and can be mounted over sliding doors or large windows. Grommet valances help diffuse sunlight and block window drafts. No additional hardware is needed to hang grommet valances other than a decorative curtain rod. The look of the rod should be considered because it will remain exposed. The grommets of the valance will slide along the decorative curtain rod. Making your own grommet valances gives you control over the fabric choice, grommet size and overall design of the valance.
Step 1
Mount the curtain rod over the window the valance will decorate. Measure the distance from the top of the curtain rod down to the point where the valance bottom will hang. Add 4 inches. This is your valance fabric length.
Step 2
Measure the rod's width and double the measurement. Multiple pieces of fabric may need to be sewn together in order to fulfill the width requirement. If so , add 1/2 inch for every piece of fabric you add. Add 1 inch for the side seams. This is your valance fabric width.
Step 3
Cut the fabric to the valance fabric length and width measurements.
Step 4
Lay the fabric flat with the right side facing down. Turn the side seams to the wrong side 1/4 inch. Turn another 1/4 inch. Pin the hem and stitch in place with the sewing machine. This will create a finished hem on each side of the valance. Turn the bottom edge to the wrong side 1/2 inch. Turn another 1/2 inch. Pin the fold in place and machine hem.
Step 5
Turn the top of the fabric to the wrong side1/4 inch and stitch. Turn again to 3 3/4 inches and stitch close to the hemmed edge.
Step 6
Mark the location to place the grommets. Begin at the top of the panel and measure down 2 inches. Mark the position with a fabric pencil. Measure 2 inches from the each side and mark the location. Evenly space the grommet positions between the two outside marks.
Step 7
Center a grommet over one of the marks and trace around the inside of the grommet. Clip a hole slightly bigger than the traced mark. Apply fray prevention liquid to the edges of the hole to prevent the fabric from unraveling. Place the back side of the grommet on the wrong side of the fabric. Center it over the fabric hole. Place the front side of the grommet on the right side of the fabric. Align the grommet pieces and snap together. Repeat for the remaining grommets.
Tip
Grommet to valances can be created from almost any fabric.
Warning
Double check all grommet positions before making your first grommet cut. Some grommets require a hammer and grommet setter--using snap-on grommets will avoid the need for these tools.