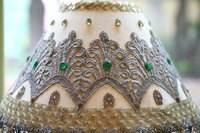 Beads can transform a plain lamp shade into a decorative element in your home. There are at least two ways to add beads to a lamp shade, depending on the type of design that you prefer. Add beaded fringe around the base of the lamp shade for a Victorian style, or add beads to the body of the lamp shade for an eclectic look. Look for beads or beaded fringe at most craft, fabric and discount stores.
Things You'll Need
Lamp shade
Measuring tape
Beaded fringe
Scissors
Gloves
Glue gun
Hot glue sticks
Fabric marker
Flat-back beads
Beaded Fringe Lamp Shade
Measure the circumference around the top of the lamp shade. Cut a length of beaded fringe equal to this measurement.
Put on protective gloves before working with the glue gun so you don't burn your fingers.
Run a bead of hot glue around a small section of the top of the lamp shade. Press the ribbon section of the beaded fringe into the hot glue. Hold the ribbon in place for a few seconds to allow the hot glue to set up. The placement of the ribbon on the shade will determine how much of the ribbon will be visible. You can attach the ribbon to the inside of the top rim, to the top edge of the rim or to the front of the top rim of the lamp shade, depending on the design you want.
Continue to glue the beaded fringe around the top of the lamp shade. Work in small sections, pressing the ribbon securely into the hot glue.
Repeat Steps 1 through 4 to add beads to the bottom circumference of the lamp shade.
Dotted Lamp Shade
Select flat-back beads in any size or color to add to the lamp shade. Select the beads from glass, wood or clay; do not use plastic beads. The beads should lie flat on the shade.
Mark the shade in the desired pattern with a fabric marker. Use stencils or templates, or randomly place the dots.
Cover one mark with a drop of hot glue. Press the bead into the glue. Hold it in place a few seconds. Repeat this step to cover each of the marked dots with beads.