Running electrical wires between the subfloor and the surface layer of flooring is not safe, but you can run them under the subfloor itself. To do this, you will need to make holes in the subfloor, and the best place to do this is through the bottom plates of walls. Feed the wire through a hole, run it along the bottoms of the floor joists or through pre-drilled holes in the joists and feed it back through another hole, or run it directly to the service panel.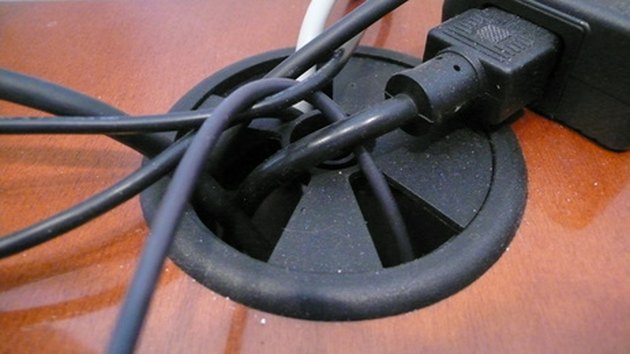 Things You'll Need
Drywall saw

Drill

Spade bit

Wire staples

Electrical wire

Drywall patching tools
Step 1
Use a drywall saw to remove a section of drywall near the insertion point of the wire. This section should be next to the floor and large enough to accommodate a drill spade bit. It should also be next to a stud, exposing part of the stud, so you can use attach replacement drywall to the stud.
Step 2
Insert a spade bit into a drill and, holding the drill at an angle as close to vertical as possible, drill a hole through the bottom plate of the wall and through the subfloor.
Step 3
Feed the electric wire through the hole and snake it along the bottoms of the floor joists, or through pre-drilled holes in the joists. Staple the wire to the floor joists if it is run along their bottoms.
Step 4
Make another hole in the floor where you plan to return the wire by removing a small section of drywall and drilling from above. Alternatively, run the wire directly to the service panel.
Step 5
Re-attach the drywall to the stud and bottom plate of the wall with drywall screws and patch it with drywall joint compound. Alternatively, attach electrical boxes at the points-of-insertion of the wires and patch around those.
Tip
If you cannot access the basement, another option is to run the electrical wire in surface-mounted conduit along the baseboards of the walls. While speaker and telephone wires can be run under hollow baseboards, it is not safe to do this with electrical wires.
Warning
Never install electrical wires where there is a danger of their being damaged by nails or screws.