Things You'll Need
Computer

Microsoft Word

Printer

Blank envelopes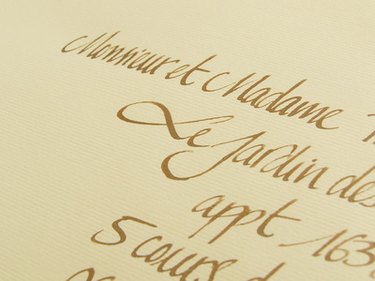 Most commonly used for wedding invitations and announcements, computer calligraphy is a cheaper alternative to handwritten calligraphy. Both general printers and niche companies offer computer calligraphy, mostly for addressing envelopes. However, with a little patience, some blank envelopes and a few other basic supplies, anyone can do this at home. It should be noted that while these instructions are geared to the application of computer calligraphy on envelopes, they can be applied to the use of computer calligraphy on other types of projects, such as invitations. These directions apply specifically to using Microsoft Word, but many comparable programs have a similar setup, so readers with programs like Pages can also use this information.
Choosing a Template
Step 1
Open up Microsoft Word. Under File, click "Project Gallery" or press the "Shift" key, the "Command" key and the letter "P" simultaneously.
Step 2
In the search box on the far right, type "envelope," and several templates will appear.
Step 3
You will also see other options in the templates menu---fliers, invitations, memos and so on. If you want to apply computer calligraphy to these types of projects, just substitute for envelope and click the template you're interested in.
Editing Your Template
Step 1
Double click on the text box to change your font---the Edwardian Script ITC font family and Lucida Calligraphy are good options for a cursive, calligraphy look.
Step 2
Delete or add any graphics. You can add graphics by going to "Insert" and clicking "Picture" where you will then be given the options "From Clip Art" or "From File." If you know what graphic you'd like to insert, then click "From File." However, if you want just a basic drawing, like a flower, it's a good idea to peruse the clip art galleries to see what they offer. If you decide to change the picture, highlight the graphic and press the "Delete" key.
Step 3
Type in the return address in the left hand corner of your envelope template.
Step 4
Save your document as a template. Under "Format" (beneath "Save As" and "Where") choose Word Template.
Addressing and Printing Your Envelopes
Step 1
Open your template and fill in the address of the first recipient.
Step 2
Put a blank envelope face down (opening on top) in the printer, making sure the envelope lines up with printer margins.
Step 3
Print your first envelope, and repeat for each recipient. Once you've completed this project, you will be able to complete most of the projects in the template gallery, from fliers to business cards, all using computer calligraphy.
Tip
This is a good option if you are inviting fewer than 50 people. Plugging in addresses repeatedly can get tiring and frustrating and, eventually, less cost effective in terms of printer ink and envelopes.