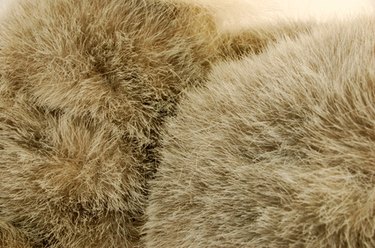 If you have a natural fur coat, you'll want to take good care of it. Whether it is rabbit, mink, raccoon or a fox fur coat, cleaning it at home may or may not be recommended. Always check the manufacturer's label first and keep your furs stored properly in the off season. You can clean rabbit and other furs at home using proper precautions and cleaning supplies.
Cleaning Rabbit and Fox Fur Coats
For spots and stains, you can try using a cleaning wash and stain bar and a bit of water on an inconspicuous area of the fur. If it creates discoloration or leaves a mark, you should stop what you are doing and take the coat to a professional fur cleaner. Otherwise, work the soap bar into the spot or stain and remove it with a lint-free cloth and more water. However, be sure not to make it soaking wet.
Another way to clean your rabbit or fox fur coat at home uses a mixture of chemicals and a pet brush. Hang the coat on a shower rod and then combine 1/2 cup vinegar, 1/2 cup alcohol, 3 tablespoons of hydrogen peroxide and 1/4 cup hot (not warm) water in a spray bottle. Shake it up, stand 8 to 10 inches away and spray the fur lightly. The hydrogen peroxide removes stains, and the vinegar and alcohol tackle the mildew smells and dirt that can get into the fur.
Now, use a pet brush and gently brush the coat in the direction of the fur's grain. Give the coat 48 hours to dry before wearing it again. Make sure that it is completely dry or it will start to grow mold. If this doesn't work or if you'd prefer not to approach the project yourself, bring your fur coat to a dry cleaner with the capacity to get your furs back to their former beauty.
Properly storing a fur coat is just as important as keeping it clean, and the best resource is a professional cold storage facility. These facilities can be expensive, though, and you can save money by doing it at home the right way. The first piece of advice is never to store fur coats in plastic bags because they need to breathe to be properly preserved. If the coat fits into it, the best choice is a cotton pillowcase; otherwise, use cotton sheets.
Another thing to avoid when storing fur coats is mothballs. The pesticides and other ingredients in these can damage your fur and leather. Mothballs are also dangerous to children and pets. Consider using moth traps instead of mothballs if you're worried about moths getting into your closet.
Store your fur away from direct light or heat sources, like vents and radiators. Pick the coolest place in your house, like an air-conditioned room or closet, and hang the coat on a padded hanger. Give it plenty of room, taking care not to squash it between other garments.
Cedar closets and chests are also unsuitable for fur coats because the wood has oils that suck out moisture and make fur brittle. Cedarwood sachets can be placed in the coat pockets to keep away moths but only use one per pocket. Do not spray perfume onto fur coats and avoid getting makeup or hairspray on them because these can also dry out the fur. You can wear your fur coat in light rain or snow but always shake it out and let it dry before hanging it.