Things You'll Need
2 rolls of matching gift wrap

Roll of transparent tape

Scissors

Floral wire

Giant bow
Gift wrapping a door to make it look like a giant present is a project you can undertake for a birthday, anniversary or holiday such as Christmas. Whatever the event, simply choose the matching gift wrap and bows and surprise the gift recipient or honoree whenever he opens his door the next morning.
Step 1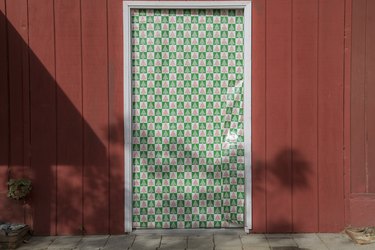 Tape the edge of the wrapping paper to the top of the door. You likely will need two strips of wrapping paper to cover the entire door, but just start with one strip to begin with. Once you have taped the paper across the door, roll the paper down to the ground and snip the paper from the roll with a pair of scissors. Repeat this step again, overlapping the first taped strip of paper if needed, so that the entire door now is covered with paper.
Step 2
Poke a small hole through the wrapping paper with your scissors at the place where the door knob is positioned. Once you have a small hole started, you can cut a larger one until the door knob slips through the hole easily.
Step 3
Smooth the paper with your hands, and place tape on the door from the top all the way down to the bottom of the door. You may need to use the scissors to trim rough edges. You also can fold the wrapping paper under at the bottom of the door to get a straight edge. Secure with tape.
Step 4
Tape one long vertical streamer or strip of tinsel garland down the center of the door and another horizontal strip across the door so that the strips form a cross.
Step 5
Attach a giant bow at the intersection of the cross. Try to find a self-adhesive bow. If that is not available, then secure the giant bow with tape or wire if you are using a heavy, tinseled garland.