Things You'll Need
Tape measure

Exterior air conditioner cover

Weather stripping tape

Interior plastic (for sealing window)

Double-sided tape

Scissors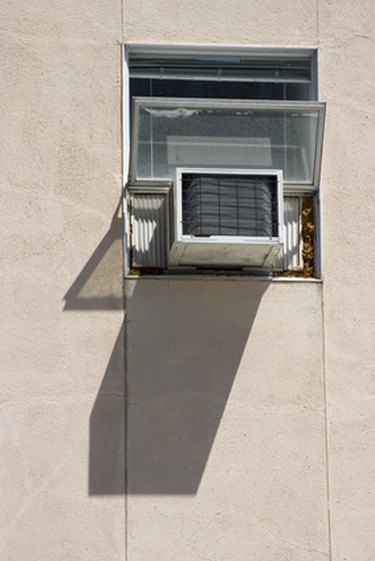 While your window air conditioner works in the summer to keep your home cool, do not allow it to continue to cool your home during the winter months. Seal drafts and keep your home warmer when you winterize window air conditioners before the cold weather begins. By covering the air conditioner unit in a double layer of insulation, you can vastly reduce your heating costs.
Step 1
Measure the dimensions of your air conditioner. Purchase an exterior air conditioner cover that will fit the dimensions of your air conditioner. If your air conditioner brand has a specific cover designed for it, purchase this cover for best results.
Step 2
Attach the exterior air conditioner cover over the air conditioner following the design of the cover. A tight seal prevents air from blowing through the air conditioner into your home. If necessary, use weather stripping tape to seal the edges of the cover to the window to make the cover fit tightly.
Step 3
Measure the dimensions of the interior window around the outermost point of the wood trim with the tape measure, and add 1 inch to each dimension. Cut a piece of interior plastic the size of the measurements.
Step 4
Affix a line of double-sided tape along the wood trim of the window around the entire window. Pull off the strip of protective paper on the tape to expose the sticky surface of the tape on the wood trim.
Step 5
Stick the plastic to the tape, taking care to seal off the window at every corner and side. Press the plastic over the tape to ensure a good seal and effectively seal any remaining cold air that could enter your home through the window air conditioner.