Things You'll Need
Baking soda

Water

Sponge

Liquid dish soap

Plastic mesh pad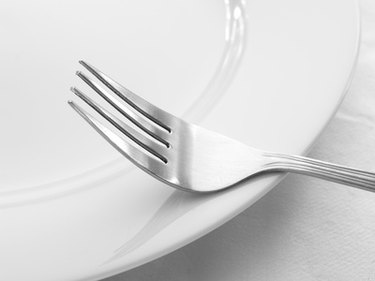 Corningware is a brand of ceramic bakeware, usually in white, that you can place in the oven, the freezer, the microwave and the dishwasher. For all these uses, you need to take care to keep it looking its best. If your Corningware has gray and black utensil marks or burnt on grease, there's no need to worry. With a few simple techniques, you can get this versatile bakeware to look as good as new.
Remove Utensil Marks
Step 1
In a bowl, mix a small amount of water into baking soda to create a thick paste.
Step 2
Spread the paste on the utensil marks on your Corningware dish.
Step 3
Dampen your nonabrasive sponge and scrub the paste over the surface of the Corningware until the marks disappear.
Remove Burnt-On Grease or Food
Step 1
Soak the Corningware dish in hot, soapy water, using liquid dish soap. Allow the dish to sit for at least 30 minutes.
Step 2
Use your plastic scrubbing pad to remove burnt-on debris and stains, using vigorous, circular strokes.
Step 3
Rinse the dish. Mix enough baking soda and water to form a thick paste. Place the paste on the plastic mesh pad.
Step 4
Scrub the ceramic stoneware bakeware with your paste and plastic mesh pad until you remove all remaining discoloration.
Tip
Remove any stains and burnt-on grease from the spaces between lettering on the underside of the Corningware with toothpicks after you have soaked the dish in hot water.
Warning
Never use an abrasive metal scrubber such as steel wool to clean your Corningware, as these tools will scratch the enamel coating.