Things You'll Need
Wood skewers

Grill pan

Dry seasonings

Cooking oil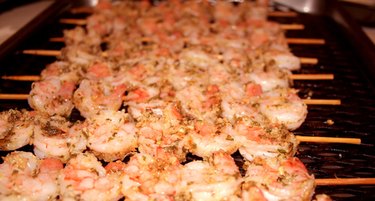 When the weather cools off, it's not always possible to grill food outdoors. If you're craving the taste of grilled shrimp in the middle of winter, you can grill it in the oven by using the broiler setting. The broiler setting applies direct heat to the surface of food, in the same manner as an outdoor grill. This method will seal in the juices and create a crisp texture on your shrimp.
Step 1
Place the oven rack four to five inches from the heat source. Begin preheating the oven by setting the temperature to 500 degrees Fahrenheit. This will make the oven hot enough to sear the shrimp.
Step 2
Soak wooden skewers for 30 minutes. Place them in a shallow pan of water to prevent them from catching on fire while you grill the shrimp.
Step 3
Place the grill pan on the oven rack. Allow it to warm up for 15 minutes during the preheating of the oven.
Step 4
Peel and devein the shrimp. If the shrimp is frozen, let it thaw before using it.
Step 5
Marinate the shrimp with your favorite seasonings. Use salt, pepper or garlic to add flavor to the shrimp. Coat the shrimp with cooking oil to keep it from sticking to the pan.
Step 6
Place the shrimp on the skewers. Slide each shrimp onto a skewer so that it lies flat.
Step 7
Change the oven to the broiler setting.
Step 8
Place the shrimp on the grill pan. Broil the shrimp on the grilling pan for two-and-a-half to five minutes, or until the shrimp appear opaque. Turn the shrimp over only once while you broil it.
Tip
Do not overcook shrimp, or it will acquire a rubbery texture.