Things You'll Need
Wood blocks

Pliers

Wrench set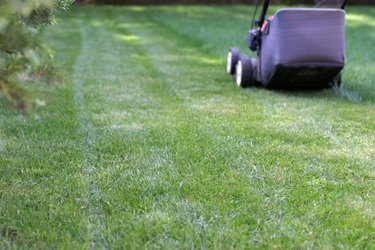 If your Snapper mower deck was damaged in an accident or if you just want to rebuild your Snapper mower, you will need to know how to remove the deck properly. The Snapper deck is attached securely to the underside of the Snapper frame with tension springs, chains links and has the belt in the blade belt drive connected to the top of it.
Step 1
Slide a block of wood under each side of the Snapper mower deck. Let the deck height handle all the way down to the lowest setting. This will make the tension springs, belt and chain links very loose for disconnecting.
Step 2
Pull the belt off the center blade pulley.
Step 3
Grab the two center tension springs with the pliers and pull them out of the hole they are held in on the top of the Snapper mower deck.
Step 4
Unscrew the bolts holding the chains to the four corners of the mower deck. Use the proper wrench size to unscrew all four bolts.
Step 5
Raise the deck height lever up all the way to the highest setting. Pull the Snapper mower deck out form under the mower.