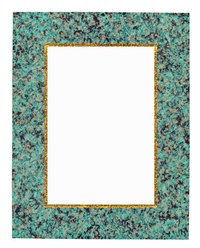 Oftentimes picture frames feature picture holder frames inside of them, which are also commonly known as picture mats. They are simply frames that hold your picture in place, but sometimes picture holder frames can cover up too much of your picture, or you simply might prefer the picture without it. Whatever the case, if you want to remove picture holder frames from your picture, do so by disassembling the picture frame and removing the picture holder frame from it.
Turn the picture frame upside down to reveal the back of the frame. Examine the frame to determine how the frame is held together. Some picture holder frames are held together by tiny screws, whereas others feature sliding latches that hold the back in place.
Slide the latches to the left or right until they sit horizontally and no longer cover the back of the frame if your frame features latches. Use a screwdriver to unscrew the screws holding your frame together if the frame features screws.
Pull the back of the picture frame up to reveal the picture within the frame. Pull the picture from the frame. Located beneath the picture is the picture holder frame. Pull it from the picture frame to remove the picture holder frame.
Replace the picture within the frame and reassemble the frame.