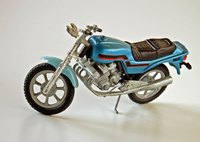 Paper crafts allow you to customize a motorbike in any color or style. Art supply, stationary and craft stores provide materials to embellish a paper model motorcycle. You can make one motorbike or build a fleet of them. A paper motorbike works well as a stand-alone project or to use in a diorama.
Things You'll Need
Motorbike pattern or stencil
Acrylic paint or colored pens
Utility knife
Cutting board
Select a pattern. Art stores and websites offer motorbike stencils and patterns you can use for your paper motorbike. Some paper motorbikes result in realistic replicas of specific motorcycle models. Motorbike patterns create dimensional paper crafts. Stencils create one-dimensional motorbike models. (See References and Resources)
Choose the paper. Heavy paper such as card stock or light cardboard provides durability and helps the motorbike stand up.
Place the motorbike stencil or pattern on your card stock and use the utility knife to cut it. Use a new blade for best results.
Paint the motorbike in the desired colors. Allow it to dry.
Fold the motorbike together according to the pattern instructions for a dimensional paper motorbike.