Things You'll Need
Bernina sewing machine

New needles appropriate for the fabric being sewn

Quality sewing thread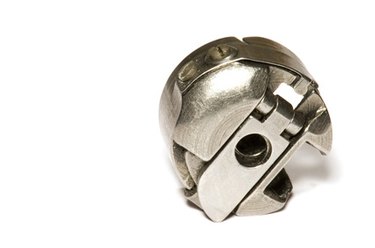 Bernina sewing machines are quality machines that will provide many years of sewing with proper maintenance. Most problems with the sewing machine can be fixed with a few simple adjustments. Before taking the Bernina sewing machine to a repair shop at the first sign of trouble, save money on a repair bill by troubleshooting at home.
Step 1
Secure all plugs into their respective outlets. If the wall plug-in, the foot pedal or outlet plug are not securely pressed all the way, the machine may turn on and off during sewing.
Step 2
Check to see if the needle is placed properly. Needles need to be pushed all the way up in the needle clamp, and the fixation screw must be turned all the way. The needle may slip down during sewing if it is not securely attached to the machine. The needle clamp needs to be turned until it is no longer loose.
Step 3
Use only needles that are new and of proper weight for the garment being sewn. Bent or dull needles will result in skipped stitches or stitches jamming in the fabric. Blunt needles will also cause the upper thread to break.
Step 4
Adjust the thread tension on the sewing machine. The upper thread will break if the tension is set too high. Lower it for smoother sewing. The lower thread also needs to be lowered if it is constantly breaking during sewing.
Step 5
Open the bobbin case and remove any loose threads if there are any. Loose threads in the bobbin case will prevent the sewing machine from sewing properly and may jam the threads as it is stitching. Use the brush that came with the machine to clean out any thread fuzz that has accumulated.
Step 6
Re-thread the spool as necessary. Follow the sewing machine's manual for proper threading. Generally, the foot needs to be raised along with the needle, and the thread must be threaded through the thread path properly.
Step 7
Use quality thread for both sewing and for the bobbin. The use of old thread may cause it to break during sewing. Also, dried out thread may cause an over abundance of thread fuzz to clog up the bobbin case during sewing.