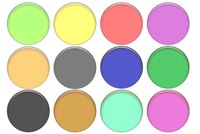 The art of cutting glass becomes difficult when you want to cut round glass. There are several ways to cut round pieces of glass. Choose from using a basic hand held cutter, a glass saw or tools made specifically to cut precise circles and curves.
Things You'll Need
Stained glass
Glass cutter
Running pliers
Grozier pliers
Stained glass saw
Stained glass circle cutter
Hand Held Cutter
Trace the circle you want to cut, with a non-permanent marker, onto the glass.
Cut a square, with a glass cutter, around the circle. Each side of the square should touch the circle. Break the glass with running pliers or grozier pliers.
Score the corners of the square at an angle. Break the glass at the score. Continue scoring and breaking the rest of the circle pattern until you have a round glass circle.
Glass Saw
Trace a copy of the round shape you want, with a wax pencil, onto the glass. With a hand held glass cutter, cut the glass so there is less than 1 inch of glass around the circle.
Place the glass on the saw platform and turn on the saw. Ensure that the water is hitting the saw blade before beginning to cut. Hold the glass securely and press the glass against the saw blade until the blade cuts through to the shape on the glass.
Use every angle of the saw blade to continue cutting the round glass. This means that the glass does not need to be turned; just continue to press the glass against every side of the blade to follow the pattern.
Circle Cutting Systems
Score precise circles up to 5 inches diameter with the Easy-cut Lens Cutter. This tool is ideal for hobby glass cutters.
Cut small round glass pieces with ease with the Morton Teeny Circle System. Use this to score circles with diameters of 6 inches or less.
Set the ruler, adjust the cutting head to the setting and cut precise circles up to 12 inches diameter with the Circle Pro 12. This system can be folded for storage to keep your work area clutter free.
Score circles up to 25 inches diameter with the Glastar Circle Cutter. This tool will also cut strips, which makes it a versatile tool to have.
User the Circle Pro 24 to score circles up to 24 inches diameter. This tool works with the Cutter's Mate system and also has an arc angle guide to make circle borders.
Find these products at your local stained glass shop or search online by typing the name of the system into your web browser. They can be used to cut stained glass or other types of glass. All come with instructions for how to cut round glass.