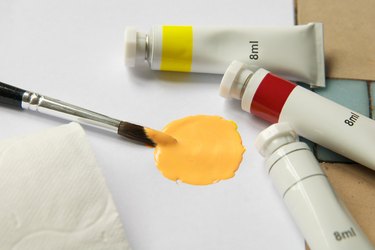 Mixing paints to get certain colors can be tricky, especially since more often than not the final product ends up looking too dark, too light or too muddy to use. When mixing paints to get a peach color, it is very important that you are careful with how much color you mix. Even the slightest overdose of any component can ruin the color and force you to start over. It's important to stay focused and be careful as you mix the paint so that you can achieve the exact shade you are looking for.
White paint
Paint palette
Red paint
Paintbrush
Paper towel
Yellow paint
1. Add white paint to a painting palette
Add a dollop of white paint to a painting palette. Use about as much paint as you'll need total. Make sure not to make too little, since it is nearly impossible to create the exact same shade twice.
2. Add a tiny amount of red paint
Use a paintbrush to add a tiny amount of red paint to the white paint and mix it around with the brush. The end result should be a very light pink. If the pink is bright or even close to looking like a light red, add more white until the correct shade is obtained.
Clean the brush thoroughly with warm water and a paper towel. There should be absolutely no trace of red on the paper towel when you are done. Even the slightest bit of leftover paint can change the entire shade.
4. Add a tiny amount of yellow paint
Add the same minuscule amount of yellow paint that you did red paint and mix with the brush. A little bit goes a long way, so make sure to only add a tiny bit at a time. The addition of the yellow paint should create a fresh, bright peach color.
How to Mix a Peach Color With Acrylic Paint
Acrylic paint, one of the most commonly used types of paint for interior spaces and art projects, makes for a popular modern medium due to its versatility, quick drying time and ease of use. Most acrylic paints are also allergen-free and nontoxic, making them particularly ideal for children's projects.
Whether you want to create a neutral skin-toned hue for a painting, or you need a peachy shade for any other purpose, mixing specific colored paints will create a peach paint color.
Palette
Paintbrush
Orange acrylic paint
Red acrylic paint
White acrylic paint
To lighten the peach shade, add a small additional amount of white paint. To darken the peach shade, add a small amount of brown, black, or another darker shade of paint. Mixing paint colors can be tricky, and it is always best to continue adding smaller rather than larger amounts of light or dark paint until you achieve the desired color.