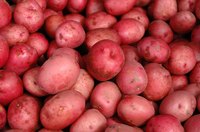 Red potatoes are the ideal whole potatoes to cook in the microwave. The flash cooking of the microwave and the moist heat it produces do not compromise the vegetable's flavor and texture. Red potatoes have thin skins, and there is no reason to remove the peel. Quickly cook whole red potatoes in the microwave, chill, dice and make them into potato salad---or leave them whole and serve them as a hot side dish.
Things You'll Need
Red potatoes
Microwave-safe bowl
1-quart microwave-safe bowl with lid
Fork
2 tbsp. butter
1 tbsp. lemon juice
1 tbsp. chopped chives
1/2 tsp. dill weed
With Water
Rinse the red potatoes under running cold water to clean.
Place the potatoes in a microwave-safe bowl.
Add 1/2-cup water to the bowl for every pound of potatoes you are cooking.
Cook on high for 6 to 8 minutes per pound. Turn the potatoes off mid-way, rotate the potatoes in the bowl and continue cooking for the remainder of the time.
Without Water
Place a pound of washed red potatoes in a microwave-safe quart bowl and cover.
Microwave the dish on high for 10 minutes or until tender. If a fork easily goes into a potato, it is tender.
Add butter, lemon juice, chives and dill weed to the potatoes.
Microwave for 2 to 3 minutes, uncovered. Stir the potatoes to coat before serving.