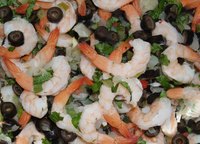 Heating precooked, frozen shrimp will require precise timing. Since the shrimp are already precooked, you do not need to cook the shrimp again. In order to protect the taste of the shrimp, it will need to be heated for no more than one minute by either tossing it in a pan coated with oil, placing it in boiling water or adding it at the end of a hot dish.
Things You'll Need
1 tbsp. lemon juice
Cooking pot
Thaw the frozen shrimp in the refrigerator. Place it in the refrigerator the night before you will be using it to ensure that it thaws completely. Place the shrimp in a colander and run cold water over them if you do not have time to wait for them to thaw.
Cover a cooking pan with oil. Place the pan over medium-high heat until the oil simmers, and then toss the thawed shrimp in the pan. Add 1 tbsp. of lemon juice, and stir them constantly to prevent cooking them again. They will become warm after 30 seconds to 1 minute.
Bring a pot of water to a boil. Add the shrimp into the boiling water for 30 seconds. Immediately remove the shrimp with a slotted spoon to prevent overcooking them.
Add shrimp at the end of a hot dish. Once you prepare stir-fry or noodles, add the shrimp at the very end to prevent cooking them further. This will heat them, and prevent them from becoming rubbery in texture and taste.