Things You'll Need
Tape measure

Duct tape

Pencil

Drill with bit

Spray bottle with water

Yard stick

Rotary saw

Masonry saw blade

Clamps

Vice grips

Blanket or towels

Sandpaper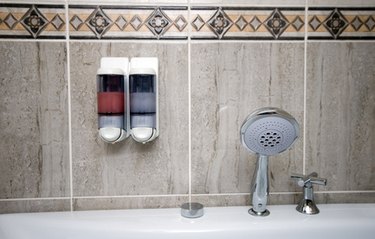 Cultured marble is a manufactured substance that is molded into sinks, shower panels, vanities, and countertops. Polyester resin and marble dust are combined with pigment and a catalyst, to produce cultured marble. Because products made of molded cultured marble have such a hard structure, they can be challenging to cut and drill to size during an installation. Using proven methods for cutting and drilling cultured marble will help keep your installation problem free.
Drill Cultured Marble
Step 1
Put a piece of duct tape on the finished side of the cultured marble in the approximate area where you will drill the hole. Use a tape measure to find the center of the hole you need to drill and mark it on duct tape with a pencil.
Step 2
Secure the cultured marble with clamps and vice grips to keep it from slipping while you drill. Hold the drill upright at a 90-degree angle. With light pressure, begin drilling through the duct tape and into the cultured marble on the pencil mark.
Step 3
Use a spray bottle filled with clear water to spray the tip of the drill bit and the immediate cultured marble area to decrease the heat from friction while drilling. After drilling the hole, remove the duct tape and wipe the cultured marble surface clean with a cloth.
Cut Cultured Marble
Step 1
Use a yard stick to measure the cultured marble carefully. Use a pencil to mark the cut lines on the unfinished back. Cover the surface of the finished side of the piece or cover your work bench with a blanket or towels to protect the surface from scratches.
Step 2
Turn the cultured marble face down and secure it tightly with clamps or vice grips to avoid slippage while cutting the hard surface of the piece.
Step 3
Use a rotary saw with a masonry blade to cut along the pencil cut line. Guide the saw instead of pushing it, to avoid splintering or chipping the marble. As you near the end of the cut, move more slowly, to avoid ragged edges and to make a clean cut. Use sandpaper to smooth the cut edges. Make sure not to sand any part of the finished surfaces, to avoid scratches.
Tip
No special drill bit is required to drill cultured marble. Make sure the drill bit is sharp.
Double- and triple-check all measurements before cutting or drilling.
Warning
Wear safety glasses, a respirator, and gloves when cutting or sanding cultured marble.
Use sharp cutting blades and bits to avoid splintering cultured marble.